The good people of the BBC sent me an exclusive Digital* Radio today because apparently they think I'm ace and are totally smitten with me. Oh okay, so they sent it because I won a competition, but the details aren't important.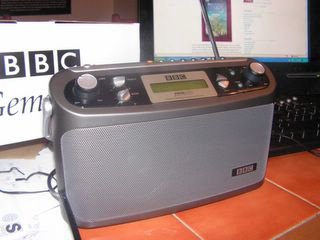 I announced the former fact proudly to my friend The Garfather.
"So," he responded flatly. "What are you going to do with this digital radio then?"
"Well, listen to the radio on it.
Digitally,
" I replied, making a jazz-hands like gesture which I hoped indicated technology and perhaps the future.
"Hmmmm," he said.
"Digitally," I repeated authoritatively, this time pointing a finger which I hoped indicated this was the only way any serious radio listener should go about things.
So far me and the radio are getting on quite well, but in truth I had been a little worried about The Garfather's Hmmmm. I only listen to Xfm and Radio 4 together with Annie Mac on Radio 1 on a Thursday, all of which are catered for adequately by the analogue radios in my bedroom and kitchen, and so I was a little dubious about whether I'd make much use of this new radio and was thinking I'd give it to my mother. But over the course of the day I've become quite taken with my new toy, and am enjoying the blissfully disk-jockey-and-advert-free Zero 7- and-Royksopp-littered
Chill
immensely. Also, I am loving being able to pointlessly 'rewind' the radio no end, perhaps more than I should. That said, I must admit I was a bit perturbed to find I'm having to do a fair bit more aerial tweaking than I'd planned for (static being replaced by some off-putting turntablist scratching sounds). I don't know a great deal about these matters, but I'd sort of assumed digital technology would put an end to such things.
**************************************************************
Finally.
* I struggle to say digital properly. And tragedy. Something strikes me as inherently wrong about having a "ju" or a "ge" sound in the middle of a word being followed or preceded by Ts or Ds, and so - perhaps as a form of subconscious protest - I pronounce it like a drunk.