I ordered in a pizza t'other day. An event in itself admittedly, but readers there is more! As I glugged on my Sprite I noticed something was amiss. Startled by a peculiar feeling I couldn't quite put my finger on, I ceased all activity to try and identify that which had perplexed me. A moment later and unable to do so (and also a little hungry), I retired from my bout of contemplation and returned to my delightfully greasy meeting. Pausing for a drink and... there it was again! Ever the scientist I was able to establish that the funny sensation was undeniably linked to the drinking of Sprite; something just nagging in the recesses of my mind. I drank again: hmmmm, tastes fine, but something is definitely up here... And then it struck me. I was having trouble getting a decent slug from the can.
A quick inspection revealed what I suspected: the hole in the top of the can was ever so slightly smaller than normal. Barely perceptible, but *I* had picked up on it. *I* am special like that.
Further inspection revealed that the can hailed from France. How interesting, I thought, this calls for a rigorous scientific investigation. Unfortunately I didn't have a standard UK Sprite can hanging around to compare it with and wasn't yet dressed, so going out and purchasing one was not an option I would consider (hey, why do you think I was ordering food in in the first place?). However, I had a few empty cans of Stella hanging around at the foot of my bed (ahem) and, ever the incompetent scientist, was more than happy to use these as a means of comparison.
I think you'll find that the results of my study, illustrated below, are most conclusive and speak for themselves. The question still remains though: why does the Frenchman require a smaller hole?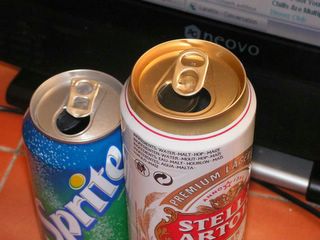 *******************************************
Psssst! Did any other London bloggers receive an 'exclusive' email (yeah right) from Londonist t'other day, saying they'd made it onto Londonist's list of people they really wanted to see at their birthday party? More importantly, is anyone considering going? I'm thinking I might... Well, so long as I'm not stuck interviewing mentalists that night.