An overseas correspondent recently wondered out loud to me what this place called Tufnell Park I live in looks like.
"Hold that inquisitiveness!" I ordered, and went out on to the roof of my building and took a photo which was promptly dispatched to said correspondent. Truly, it is becoming a global 'sponsored by Kodak moments' village.
As I can't think of much better to say today, I thought I'd share some of this exclusive photo shoot with a wider audience. Lookit (verily, you may click for bigger).
Roofs and Chimneys, looking towards Hampstead Heath.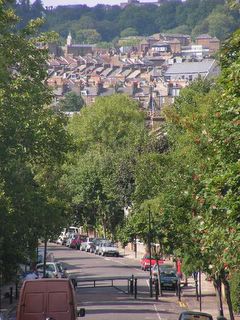 A typical Tufnell Park mean street, looking towards Highgate Hill.

****************************************************
August's Celebrity Spots
Hermione Norris
looking a bit distracted (and smaller than expected) outside Goodge Street Tube.
Damian Lewis
looking confused but bemused at the Camden end of Kentish Town Road. My intial thought was "that
Josh Homme
isn't as tall as I'd imagined". The sunglasses confused me for a minute, see?