Well, after the not especially latent aggression of yesterday's post, I thought it best that today I reflected on something positive. So, let's point the camera out of my office window, eh?
And thar she blows! Yup, that's my view (provided I look up, and not down. You may click on today's pictures to make them slightly bigger, if you wish). The
BT Tower
(formerly the Post Office Tower) is my favourite building in the whole of London Town. Dismissed by some as an ugly remnant of Britain's excitement over the new dawn of technological advances in the 1960s, I happen to think it's a
stylish old thing
, and just retro enough to stay on the right side of good-looking (and it's certainly a hell of a lot nicer than the
monstrosity
in
Second City
. Yuck!). At 189m (620ft) tall (just tall enough to beam over the Chiltern Hills to the North-West. That said, it apparently shrinks by a good 20cm on the coldest of winter days) it's
pretty
hard
to
miss
from most parts of town (and I always eagerly try and catch a distant glimpse of it as I head in on the M4) and the views from the top are said to be phenomenal (
lookit
!).
With construction commencing in 1961, the Tower was built in it's distinctive circular shape as designers noted that the only buildings to withstand the nuclear attacks on Hiroshima and Nagasaki were round. The hope that the Tower would actually have withstood a nuclear exchange is quite endearing (if a little sinister). Quite what good it would have done us if it had is another matter…
"Er… hello, America? Yes, it's us, the UK. You said that you'd lend a hand if we ever found ourselves in a spot of bother…?"
When I moved to London 5 years ago, my first two years were spent living on the street right at the foot of the Tower. It was the best neighbour I've ever had. It's said to sway 20cm in either direction in strong winds, but I never caught it doing that. No, for me, it was something of a reassuring father figure: London's a big place, and when you're new it's easy to get lost. Having good old BT Tower nextdoor meant I could usually find my way home even when extremely intoxicated without having to consult a map (which is just as well, as the Official Secrets Act forbade the Tower being marked on maps up until the mid-nineties [so no-one would know where it is…]).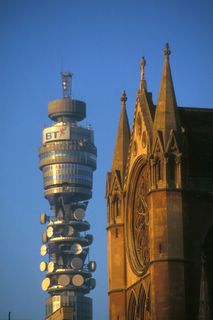 I have a fond memory of smoking Café Crèmes on my balcony with Eddie one evening, and looking up at it against the milky London night sky, and us both commenting "it's pretty big, eh?". Stating the obvious perhaps, but it's hard not to be left in awe by its peculiar charm at times. Sometime later, one night me and Eddie were heading back to mine from the pub when we noticed that there was clearly a disco going on on the top floor. We rushed to the Tower's base to assess the chances of us being let in, and were greeted by quite a friendly security guard. It was clear that he would have dearly liked to let us in and up, but this was mere weeks after 9/11, and they were paranoid times where security staff could be out on their ear for much less. Instead, he delighted in fondly regaling us with facts about the tower.
"The lifts go at 6 metres a second!"
"It's pretty big, eh?" we sagely asked him…
*************************************
Today, amongst other things, I am also loving
Mammatus clouds
.