Heading down Montague Place briefly, I enter the British Museum through it's rather less showy back entrance. Opened in the 1750s to house Sir Hans Sloane's collections, this is the oldest public museum in the world. Well, I suppose 'public' is a relative term: it wasn't until some 60 years later that people other than the select few were allowed in. There's so much to see aside from the Mummies in the BM, and I've seen so little of it in total. The museum is an expansive building, as I found out when, during one visit, the fire alarm sounded and I was treated to a tour into the normally unseen depths of the Museum where many of the artefacts are held due to a lack of display space. The exhibits on show vary enormously and you'll always see something unexpected or mind blowing: Dylan Thomas was once visiting and proclaiming to a companion how much a certain piece of abstract sculpture spoke to him on a deeply artistic level, who awkwardly had to tell the poet he was looking at a meteorite. As much as I love it, there's something about the British Museum which I find a little distasteful, all this Imperial Plunder shamelessly looted before our title as world-all-round-bully-and-arrogant-know-it-all slipped from our grasp. I mean really, should the Rosetta Stone be in a museum in London as opposed to one in Cairo? Oh well, if Napoleon had had things his way, it would be in the Louvre.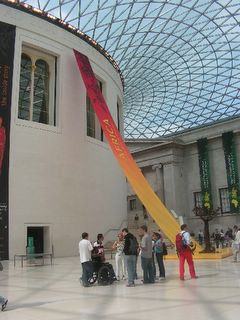 But the British Museum makes up for any reservations I have about it as it contains one of my favourite places in London: the Reading Room. Formerly the main site of the British Library before its 1997 move was completed, this impressive structure was designed by Sydney Smirke and opened in 1857, and boasts a dome bigger in diameter than St Paul's. Marx was a frequent – well, daily no less – visitor to the Reading Room as he worked on Das Kapital, and the list of other famous Reading Room frequenters is long and impressive, from George Bernard Shaw to Lenin (who signed in under the name of Jacob Ritter). As an undergraduate, I would come to the Reading Room to thrash out my thesis or swot for exams. There are some snaps somewhere in the world of me at work in the Reading Room, surreptitiously taken by tourists under the impression they were witnessing a modern day scholar at work. Ha!
Chewing gum depoisted on the underside of the desks by Mahatma Gandhi can still be found
Leaving the Museum through it's famous front entrance, I soon find myself at the junction of Bloomsbury Street and New Oxford Street. Here you can find the delightfully old fashioned (but also quite exclusively priced) James Smith and Sons Umbrella and Cane shop, and the rather good The Socialist Bookshop (if you like that sort of thing).
Looming to my right is the 35 storeys of Centre Point. A result of the government's 1958 repealing of the 1888 London Building Act, which had stated that buildings could be no more than 100-feet high (as high as a fireman's ladder), Centre Point was one of many medium-tall buildings that sprouted up in the 1960s, and is or was fairly unpopular with Londoners who perceived it to have been built for the sake of building it, rather than to serve a purpose. The 380-foot tall construction, described in Alan Browjohn's poem as a "barren phallacy of egg boxes without eggs", remained empty for its first 10 years, until a group of squatters moved in in 1975. Considered by some to be an icon, Centre Point is now a Grade 2 listed building.
Skirting round the outskirts of Covent Garden, I arrive in Leicester Square. Attempting to access the square from its north-east point, I have to cope with the tourists causing pedestrian gridlock on this tightly packed and railed-in pavement as they suddenly stop mid-stride as is the unfathomable want of the tourist. I pass by the Hippodrome, a splendid old theatre which suffered the indignity of becoming a
Peter Stringfellow
owned nightclub for a while. I'm unsure of its fate nowadays, but I'm sure whatever it is it'll be a far cry from the days in the early 1900s when it hosted spectacular shows featuring lions, tigers and polar bears. Laid out in the 1670s the square enjoyed a period as being a desirable address - Sir Isaac Newton was one of a number of well respected residents - but for some time now it has most definitely been low-brow. There's something garish about the place, described by some as London's Blackpool, and I tend to avoid it, apart from the excellent Prince Charles cinema that is. The tourists here wander around looking confused, drawn to the area by it's apparently well known name. On arrival they look around. Hmmm… Burger King. Yep, we know that. McDonalds, yes, those too. Hollywood blockbusters, yes… but what else?
In truth, not much. But at night, the character of the place changes. Whether it improves is highly questionable. A mecca to vastly overpriced sleazy binge drinking, Leicester Square is a place where generation upon generation of Londoners (or those travelling in from the Home Counties) have gathered to be packed in to nasty loud bars and get into brawls. Hell, it was even Euan Blair's favoured place of drunken stupor after he finished his GCSE's. This said, when the fair's in town, it's worth a look at about 1am just to see the slow reacting drunkards going round on the dodgems, most of them wearing open mouthed expressions suggesting they'd rather be in bed.
I briefly pause to take in the ground floor of the National Portrait gallery. I'm a bit of philistine when it comes to art; I don't have much time for it and art galleries make me feel sleepy. But the National Portrait gallery is slightly more accessible for the likes of me, offering the likes of Dizzee Rascal and Salman Rushdie over long dead monarchs and biblical scenes, so I can nod my head, and go "yes, I understand". And then I'm in Trafalgar Square.