Mainly built in the 1830s, Trafalgar Square echos much of London's Victorian architecture which gives a nod to the Roman Empire. Had the designer Colonel Trench had his way though, it would have been an even older dynasty which was honoured: Trench proposed that a pyramid, as high as St Paul's, should be built in the square. The Dome and Wembley follow a long tradition of London's architectural incompetency, which Trafalgar Square is also part of. It took 14 years from the square being cleared in 1829 for Nelson (the base of who's column is cheekily decorated with scenes made from melted down French cannons) to go up, and a further 25 for the lions to be put in place. Some of the square remains incomplete; the fourth plinth, built in 1841 for a statue of William IV, remains empty after funds ran out. I swap cameras with a tourist briefly, and we engage in some mutual snapping of each other. Mine of him are all arty and shit hot, his of me are all very disappointing. Featuring in Orwell's 1984 as Victory Square (and also slept in by the author whilst he 'researched' Down and Out in Paris and London), the Square is often the focal point for political rallies (from anti-apartheid protesters to British Fascists) and in 1887 bore witness to London's last significant scene of mass public disorder until the Brixton riots in 1980, when Bloody Sunday occurred after tensions relating to the rise of trade unionism led to a brutal fracas. In comparison to most European capitals, London has since been very well mannered.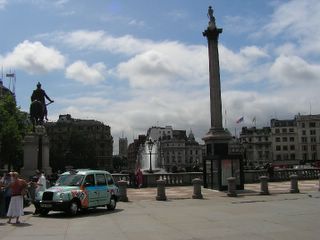 I am afraid I can neither confirm nor deny the rumour that if you send a letter to "Lord Nelson, Trafalgar Square, London", providing you supplied a return address, the Post Office will return it marked "unable to deliver: Four large lions guarding property". It's a good rumour though.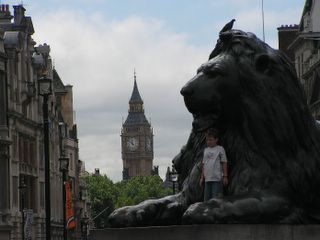 A boy shelters from a pigeon's menacing bottom
Standing at the base of the statue of King Charles I just south of the square, I pause to take in the view from the only spot in all of London which – to the best of my knowledge – allows you to take in the seats of British government and the Monarchy simultaneously without your feet leaving the ground (down Whitehall and The Mall respectively).
From here, it's through Admiralty Arch, built in memory of Queen Victoria and providing a grand entrance to The Mall leading to Buckingham Palace. The central gate is only for Royal usage, so it's round the side for me.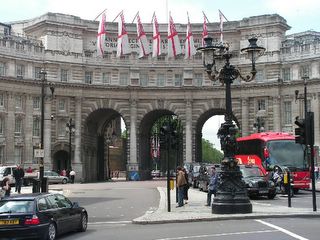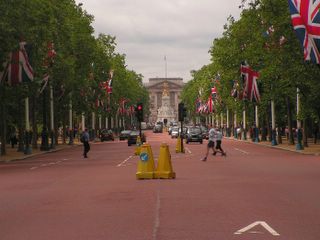 The Mall. The Queen's very own pink road.
Keeping to my due South bearing, I head down Horse Guards Road, past Admiralty House and the glorious Horse Guards Parade. However, I make a bee line for Dover House and the rear entry to Downing Street. This rear entrance, like many important government buildings since 9/11, is now surrounded by a 30-foot circumference of undignified 3-foot high concrete blocks to prevent car bomb attacks. Prior to this, you could walk right past the rear entrance. This memory in mind, I figure that, since I'm not in a car, there can't be anything wrong with me bypassing this blockade to get a closer look. Having made it halfway between the blocks and the gate, a policeman come scurrying out brandishing a rather large machine gun.
"Fucksocks! Don't shoot!" I exclaim as I retreat back over the blocks.
Can I have my ball back Tony?
Passing the Cabinet War Rooms, I'm aware that the government buildings of Whitehall have forced me off my route, so I branch down Great George Street and then head south down it's humble neighbour Little George Street. To my left lies Parliament Square, and beyond the Houses of Parliament. It's not on my route, but there's something and someone I want to see so I brave the glorified roundabout of the Square and dart to it's centre, circumnavigating the unconscious drunk snoozing in the sun.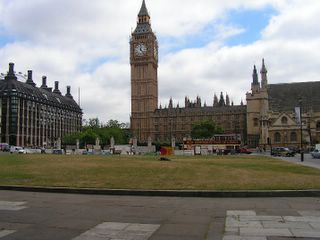 Parliament Square, with Portcullis House, where all the MPs have their offices on the left. Incapacitated chap in the centre (click to enlarge)