Before my walk has barely begun, we reach our first place of note which sits directly behind my flat. Holloway Prison. If you've ever wondered where the most miserable places in Britain are, this is probably qualifies as one of them. Costing the British taxpayer £20million a year, Europe's largest women's prison is rumoured to experience
five suicide attempts each day
. Want to witness overcrowding, rat infestations, self harm, over worked and stressed out staff desperately trying to cut down the inmates from make shift nooses faster than they can rig them up? Well, try and get yourself incarcerated here. And with the female prison population (most of whom are imprisoned for non-violent crimes) rising by 250% or so over the last decade, it doesn't appear that anyone in power is taking the shortcomings of our penal policy too seriously.
The Holloway site has been the site of a prison since 1851, with the current 500-plus capacity incarnation in existence since a complete refurb took place in the mid-1970s. In that time, it's most famous resident has probably been remand prisoner Oscar Wilde. Or perhaps current inhabitant
Rosemary West
. Or
Emmeline Pankhurst
. Take your pick. Other notables include
Maxine Carr
and
Diana Mosley
, wife of the ever delightful Oswald. 1955 saw Holloway bear witness to Britain's last female execution; that of
Ruth Ellis
who famously (well, at the time) shot her racing driver lover David Blakey. Over the years, Holloway had seen its fair share of hangings - being the location of a third of all female executions in the C20th - and the remains laid in unmarked graves on the site until the relatively recent refit when they were unceremoniously turfed up.
Holloway Prison. Making prisoners' lives hell since 1851
I can never get my head round the fact that, as I sit down with my curry in my living room to watch the 'inmates' of Big Brother, a mere one hundred metres away is the wall of Holloway, housing women separated from their families for months or years (and in the case of the numerous Jamaican drug mules, thousands of miles), inhabiting a world where mental illness and violence is rife. As Wilde himself said, "every prison that men build is built with bricks of shame, and bound with bars lest Christ should see how men their brothers maim"
After a stroll along Camden Road and a shortcut through the leafy streets of Middleton and Hungerford - which I've never been quite sure if Barnsbury, Camden or Tufnell Park lay claim to - I'm faced with the long and fairly barren stretch of road known as York Way, which runs down towards Kings Cross. The last time I tried to go down York Way I was faced with little more than a half mile crater (due to the Euro Star expansion) so I was expecting to have to find an alternative route. But no, York Way is now back in action. Back in my Uni days, I'd frequently get the old Number 10
routemaster
to University down York Way from my then girlfriend's house. Ding Ding! Ah, Happy days… They've been replaced by the soulless, but admittedly more reliable, 390 now. There's not a great deal to see here currently - unless cranes, diggers and hardhats are your thing - the highlight possibly being the former York Road tube station.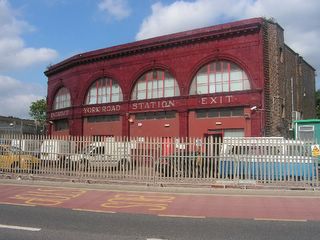 Shortly afterwards, I pass the infamous drinking den Backpackers; the sort of place where the sawdust on the floor serves the duel purpose of soaking up your vomit whilst cushioning your fall as you drunkenly collapse. Upon entry to backpackers, an antipodean bouncer will invariably stop you and earnestly tell you "There's gonna be some real drunk folks in there, and it'll probably get a bit aggro. Are you ok with that?"
As I cross Regent's Canal, I realise York Way is taking me off my due South bearing, so I duck down Goods Way and peer at the back of Kings Cross and St Pancras. See that train shed on the right? (Remember, just click on any photo to make it bigger) That's one of the true marvels of Victorian engineering, 100ft high and 700ft long, and at the time the largest indoor enclosure in the world. I don't know what they're doing to the roof.
Oooo… choo choos!
Next up is one of London's well kept secrets, but I'll share it with you because hey, I'm a nice fellow. The Camley Street Natural Park has sat on this site since 1985. Formerly a coal dump, I think it's a pretty good swap. Here songbirds twitter and geese honk, competing with the sound of construction and the dozens of passing trains. Well, ok, they're actually more or less drowned out, but it does offer some respite. It'd take 10 minutes to walk from Kings Cross or St Pancras round the back here, and if you find yourself with an hour or so waiting for a connection, on a nice day it's well worth the effort.