The side of the square which faces Westminster Palace has long been a site of protest. Commons leader Peter Hain describes it as an eyesore, but then I suppose he would.
Brian Haw claims to have been permanently stationed outside Parliament for 4 years (leaving the site only to attend court hearings) protesting against British foreign policy. Despite winning a high court ruling in 2002 that his protest exercises his rights of assembly and expression under the Human Rights Act and the European Convention on Human Rights, the Government has now passed a law aiming to remove him from the site and restrict the rights of anyone and everyone to protest with a kilometre of Parliament. No-one has yet tried to move him on, perhaps mindful of the legal implications of overriding a High Court judge and breaching the European Convention on Human Rights. But they sure do want to.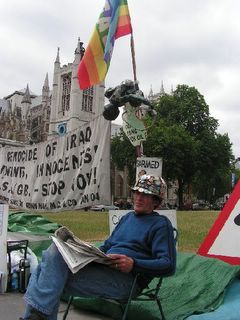 Brian strikes me as actually quite a glum and unforthcoming figure. He's not the enthusiastic idealist spouting overly liberal crap you might imagine; rather, he seems a world weary and downcast chap. He considers his vigil to be a necessary evil, looking upon his mission of protest to be a vital one but one which he resents. He's determined though.
"If they," he rued, gesturing across the road to the seat of government "can stop people protesting against genocide, they can stop people protesting against anything."