I get back on track and find myself outside Westminster Abbey. There's been a church on this site since the 600s, with an abbey being built by Edward the Confessor in the mid 1000s as a way of making amends with the Pope for failing to fulfil the promise of a pilgrimage. It was altered to its Gothic style over a long period, starting in the 1200s and being completed in the early 1500s (although the two towers came a good while later still). The abbey is
the
resting place for the monarchy and since 1066 has hosted all bar two coronations, and it is probably only due to this close tie to the Monarchy that the Abbey was spared by Henry VIII during his program of abbey demolishing (who overcame the potential problem posed by converting it to a Cathedral). Westminster Abbey was hit a couple of times during the blitz, most noticeably on 10 May 1941 in what was the severest bombing raid of the whole Blitz, and with 1436 people killed in a single night it remains the most devastating single attack Britain has ever experienced. But like Britain, the Abbey soon pulled its socks back up. The Abbey seems to have attracted the highest concentration of tourists than perhaps anywhere else I've been today, and the queue snakes round the building, so I decide to pass on having a look inside.
I head down Great Smith Street and onto Marsham Street, conscious that Millbank would offer more to look at and talk about, but that isn't the plan; I'm sticking to the map. The only place of note I'm aware of round here is the new Home Office building, sitting on the site of the now demolished Department for Environment buildings. It's quite flash. In need of a little sit down by now, I venture off Marsham Street into the quietly idyllic St Johns Gardens which, being tucked away from any main thoroughfares, offers a kind of escape from the city. You wouldn't know to look at it now, but in 1731 this site opened as a cemetery, but was plagued by 100 years of grave robbing and anti-social behaviour. Not having ASBOs or CCTV to hand, in 1853 Lord Palmerston decided enough was enough and closed it down.
Recuperated, I then pass by The Tate. Or Tate Britain if you will. Even I can appreciate the 5 rooms of Turner's hazy dreamlike imagery, so I stop off inside for a while. Not too long though; I don't want to get sleepy.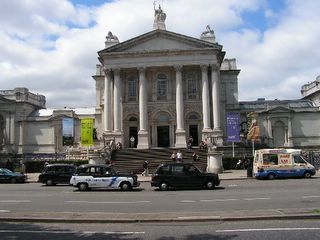 Tate Britain. The epicentre of British art
Soon afterwards, I'm faced with the River Thames, and prudently decide to go off course for a while and cross at Vauxhall Bridge. Across the river from me sits the MI6 (or, more accurately, the Secret Intelligence Service) building, Vauxhall Cross. Although it looms quite tall, apparently most of this building is concealed underground. Designed by Terry Farrell at a cost of a reported (remember,
reported
) £150m, this has been SIS's headquarters for the past decade and over 1500 people are said to work here (although in today's political climate the figure could be considerably higher). I'm aware that by giving a description and clear indication of the whereabouts of this building, I'm probably breaking some newly passed draconian anti-terror law, but I'm a rebel like that.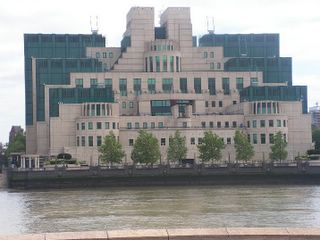 Note the British spys luching on the terrace enjoying the sun (click for big)
I was a bit off course now, so had to head down Wandsworth Road to my number 30 gridline. For those of you whose knowledge of the UK is limited to Richard Curtis films, Wandsworth Road is the long road Hugh Grant's character searches along looking for Martine McCutcheon in Love Actually. Described in the film as being a bit grotty, this is a fair description probably, not that it was at all recognisable viewed through Curtis's tainted glasses. I then branched off into deepest Stockwell. I'm in real Will Self territory here, and kept my eyes peeled for the pretentious self styled intellectual, but to no avail.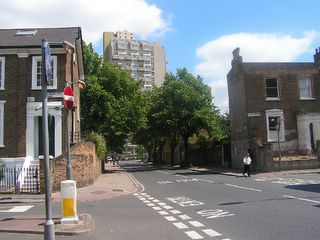 My southerly potter briefly means I venture into Larkhall Park where I took shelter from the sun under a tree. The park itself is pretty run down, but I like it. Probably named after one of the country manors common to this area in days of old, the Park has only existed for 50 years or so; young by London park standards.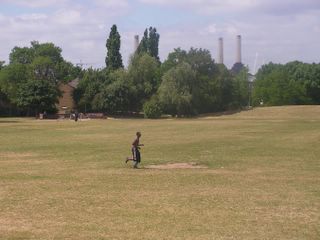 As the chimneys of Battersea Power Station loom in the distance, a chap decides to take a run in the mid-afternoon heat
On the final leg of my journey now, I head down Gaskall Street and am struck by its resemblance to the gentrified leafy streets of Tufnell Park where my journey began, where the late Victorian houses sit next to council estates. And then a few twist and turns later I hit the railway and am entering the top of Clapham. Londoners, including Samuel Pepys, moved to Clapham eager to escape the destruction of the Great Fire and the ravages of the plague. Furthermore, in 1750, with the building of the Westminster and Blackfriars bridges, Clapham became an affordable, and not too shabby, area easily within reach of London proper. It's popularity grew once the large marshland in the area was drained, creating Clapham Common, and what had until then quite recently still been thought of as the country was swallowed up by London's relentless expansion. I followed the railway to Clapham North Tube, and surveyed the view up and down Clapham Road. Being within striking distance of one of Brixton's Crack Cocaine front lines in Acre Lane, this is the slightly rougher end of an area which has fallen victim to trendification in recent years. Venture further towards the Common, and you'll find yourself deep in the land inhabited by upper-middle class white graduates in their late twenties who seem unaware that even though this is the Noughties, you can still qualify as a yuppie. I think they swarm to Clapham because they view themselves as too mature for Hoxton and like to reflect in the urban cool of Brixton without actually living there; venture into the £3 a pint gastro-pubs round here and you'll find scores of these Trustafarians with their identical independent school and Russell Group university backgrounds having identical conversations.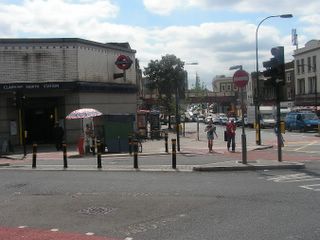 The tube station itself is one of the few in the capital with an island platform (that is, one platform with trains arriving on either side) and down below sits a deep-level air raid shelter. Neither of these facts tempt me underground though; despite this officially being the conclusion of my journey it's a nice day, so I hop on a bus back into central.